Standard Profiles - Glass & Carbon Fibre

Glass Fibre Rods - Undirectional, Polyester Matrix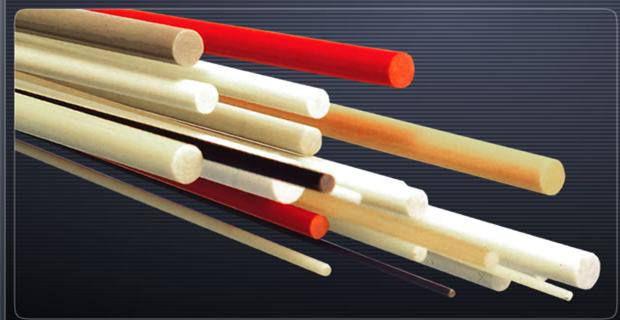 GRP reinforced concrete
GRP sailing battens
GRP tent frames
GRP kites
GRP agriculture and horticulture
RBJ's fibreglass rods are pultruded with a high volume fraction of unidirectional fibreglass in a polyester matrix to BS EN 13706 specifications. The advantage of using our GRP rods is that they have excellent mechanical properties with a smooth surface finish. They are lightweight, strong and durable, and suitable in all climates and temperatures. Solid GRP rods are great value for money.
Fibreglass rods are usually stocked in 5 metre lengths in either white or black, other colours and lengths are available upon request.*
Optional matrices in vinyl ester acrylic or epoxy are also available upon request.*
As a UK manufacturer and pultrusion company we are able to tailor production and adapt to individual customer requirements. Please call us to discuss.
*Minimum order required.
Dark grey rows - Non stock items, minimum order requirement
Note: All dimensions are nominal sizes (die sizes)
| | |
| --- | --- |
| Diameter | kg/m |
| 1.0 mm | 0.004 |
| 1.5 mm | 0.003 |
| 2.0 mm | 0.006 |
| 2.5 mm | 0.009 |
| 3.0 mm | 0.014 |
| 3.2 mm (1/8") | 0.014 |
| 4.0 mm | 0.024 |
| 4.5 mm | 0.030 |
| 4.76 mm (3/16") | 0.034 |
| 5.0 mm | 0.037 |
| 5.85 mm | 0.049 |
| 6.0 mm | 0.053 |
| 6.35 mm (1/4") | 0.057 |
| 7 mm | 0.076 |
| 8.0 mm | 0.088 |
| 9.0 mm | 0.135 |
| 9.5 mm (3/8") | 0.130 |
| 10.0 mm | 0.140 |
| 11.0 mm | 0.203 |
| 12.0 mm | 0.210 |
| 12.7 mm (1/2") | 0.220 |
| 13.0 mm | 0.239 |
| 14.0 mm | 0.319 |
| 15.0 mm | 0.324 |
| 16.0 mm | 0.418 |
| 16.2 mm (5/8") | 0.350 |
| 18.0 mm | 0.525 |
| 19 mm (3/4") | 0.475 |
| 20.0 mm | 0.645 |
| 20.6 mm (13/16") | 0.550 |
| 22.0 mm | 0.780 |
| 22.2 mm (7/8") | 0.696 |
| 25.0 mm | 0.999 |
| 25.4 mm (1") | 0.920 |
| 25.4 mm x 12.7 | Half Round 0.460 |
| 29 mm x 19.3 mm | Oval Hammer Hand 0.814 |
| 31.8 mm (1 1/4") | 1.444 |
| 32.4 mm | 1.500 |
| 37.5 mm | 2.010 |