Standard Profiles - Glass & Carbon Fibre
Carbon Fibre Tubes - Telescopic Range - Vinylester Matrix - Thinwall Tubes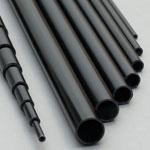 Carbon fibre light-weight structures

Carbon fibre archery sports
Carbon ski poles

Carbon nordic walking
RBJ's range of CRP carbon fibre thin walled telescopic tubes are manufactured in a vinyl ester matrix.
The telescopic carbon fibre tubes are multiple-layered, unidirectional carbon fibre with an internally pull braided carbon fibre at 80° across the axis, and externally wound with a 37° double helix braid giving a smooth outer surface finish. This gives RBJ's telescopic pull wound carbon fibre tubes a high performance with exceptional mechanical properties resistant to bending and torsional forces.
Carbon fibre telescopic profiles are typically stocked in 3 metre lengths in black. Longer lengths are available upon request.*
As a UK manufacturer and pultrusion company we are able to tailor production and adapt to individual customer requirements. Please call us to discuss.
*Minimum order required.
Note: All dimensions are nominal sizes (die sizes)
| | | |
| --- | --- | --- |
| O.D. | I.D. | kg/m |
| 18.0 mm | 16.0 mm | 0.081 |
| 20.0 mm | 18.0 mm | 0.100 |
| 22.0 mm | 20.0 mm | 0.101 |
| 26.0 mm | 24.0 mm | 0.127 |
| 30.0 mm | 28.0 mm | 0.137 |
| 34.0 mm | 32.0 mm | 0.153 |