Standard Profiles - Glass & Carbon Fibre
Carbon Fibre Strips - Undirectional, Vinylester Matrix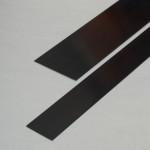 Carbon fibre sail battens
Carbon fibre concrete repair

Carbon fibre reinforcing engineering structure
RBJ's CRP unidirectional carbon fibre battens, carbon fibre strips and carbon fibre bars are designed and pultruded with a high volume fraction of carbon fibre in a vinyl ester matrix.**
The advantage of using our carbon profiles over GRP is that they are lighter and have a higher modulus and lower density with a greater stiffness and strength and a smooth surface finish.
Carbon fibre CRP strip profiles are typically stocked in 5 metre lengths in black. Longer lengths are available upon request.
*
As a UK manufacturer and pultrusion company we are able to tailor production and adapt to individual customer requirements. Please call us to discuss.
*Minimum order required.

** 50mm x 1.4mm & 100mm x 1.4mm carbon fibre strip are manufactured using high tensile modulus carbon in an epoxy resin matrix and are specifically designed for the concrete repair industry.

Dark grey rows - Non stock items, minimum order requirement

Note: All dimensions are nominal sizes (die sizes)
| | |
| --- | --- |
| Width | Thickness |
| 6.35 mm | 6.35 mm |
| 10.0 mm | 10.0 mm |
| 11.0 mm | 1.8 mm |
| 15.0 mm | 3.5 mm |
| 20.0 mm | 2.0 mm |
| 20.0 mm | 3.0 mm |
| 24.0 mm | 2.5 mm |
| 24.0 mm | 4.76 mm |
| 50.0 mm | 1.2 mm |
| 50.0 mm EPOXY | 1.4 mm |
| 50.0 mm | 2.0 mm |
| 50.0 mm | 5.0 mm |
| 100.0 mm | 1.2 mm |
| 100.0 mm | 1.4 mm |