Standard Profiles - Glass & Carbon Fibre
Carbon Fibre Rods - Undirectonal - Vinylester Matrix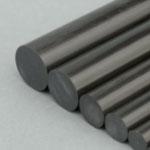 Carbon fibre sailing battens

Carbon fibre frames
Carbon fibre kites
Carbon fibre prostheses
RBJ's carbon fibre CRP rods are unidirectional and pultruded in a vinyl ester or epoxy matrix.
The advantage of using our carbon fibre rods over GRP is that they are lighter and have a higher modulus and lower density giving greater stiffness and strength with a smooth surface finish.
Carbon fibre rod profiles are typically stocked in 5 metre lengths in black. Other lengths available on request.
*
As a UK manufacturer and pultrusion company we are able to tailor production and adapt to individual customer requirements. Please call us to discuss.
*Minimum order required.

Dark grey rows - Non stock items, minimum order requirement
Note: All dimensions are nominal sizes (die sizes)

| | |
| --- | --- |
| Diameter | kg/m |
| 1.0 mm | 0.001 |
| 1.2 mm | 0.001 |
| 1.5 mm | 0.003 |
| 2.0 mm | 0.004 |
| 2.5 mm | 0.008 |
| 3.0 mm | 0.014 |
| 4.0 mm | 0.018 |
| 5.0 mm | 0.027 |
| 6.0 mm | 0.044 |
| 6.35 mm (1/4") | 0.048 |
| 7 mm | 0.055 |
| 8.0 mm | 0.071 |
| 9.0 mm | 0.092 |
| 9.5 mm (3/8") | 0.099 |
| 10.0 mm | 0.011 |
| 11.0 mm | 0.140 |
| 12.0 mm | 0.163 |
| 12.7 mm (1/2") | 0.175 |
| 14.0 mm | 0.233 |
| 15.0 mm | 0.254 |
| 16.0 mm | 0.294 |
| 18.0 mm | 0.362 |
| 20.0 mm | 0.456 |